Have you ever felt a 19th-century mill in operation? *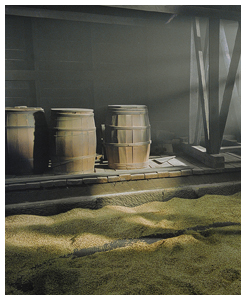 Have you ever felt a 19th-century mill in operation? * The Balmoral Grist Mill processed a variety of grains over the years, but the most complicated process is making Scottish style oat meal. Processing oats takes three days and starts with a day of drying in the maple fired kiln. The following day the oats are then shelled twice using smooth shelling stones made from local sandstone. On the third day the shelled oats are ground, sifted and bagged. Generally oatmeal is only made a couple times per season and at other times the most common grains that we process are wheat and occasionally, buckwheat. 
Sutherland Steam Mill
Just 12.5 kms from the Grist Mill, the Steam Mill represents the next stage of Nova Scotia's Industrial Revolution heritage, and is a perfect compliment to a visit to Balmoral.
* All aspects of mill operation are subject to change without notice. Preservation of this precious part of Nova Scotian heritage is our number one priority. Please call to confirm the operational status of the mill.