Many of the woods often used in mills can be found around the mill site.
White Ash (Fraxinus americana) provides a strong fine-grained hardwood for small hand tool handles.
 
Hemlock (Tsuga canadensis) would have been harvested to build and maintain the building itself.
 
Where strength and durability were paramount, Ironwood (Hop-hornbeam) or Ostrya virginiana is predominant in central Nova Scotia along streams and rivers.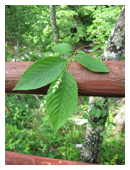 Sugar maple (Acer saccharum). Sugar Maple of course is a premier furniture, flooring species and what we burn to dry our oats and impart a special quality to our product.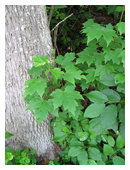 The trail above the mill is a mixed forest of both deciduous and conifer trees. However there are more conifer trees. Therefore the groundcover also differs. Here you will see many plants are associated with mixed forests.
Two typical plants in shady locations beneath these trees are Clintonia borealis (Clintonia Lily; Blue-bead Lily) and Wild Lily-of-the-Valley or Canada Mayflower (Maianthemum canadense). Both are colonial plants….they are never alone.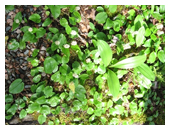 Moosewood appears in small shady depressions or on slopes, this maple is a favorite browse of ungulates. Differing from other maples, the large leaves are toothed on the edge, but with only 3 points. It is also called Striped Maple (Acer pennsylvanicum).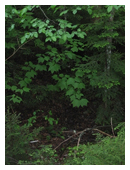 You will notice leafy lichens on the trunks of the larger deciduous trees, these are lung lichens, (Lobaria pulmonaria). Their presence may indicate a forest that has not been disturbed in some time.